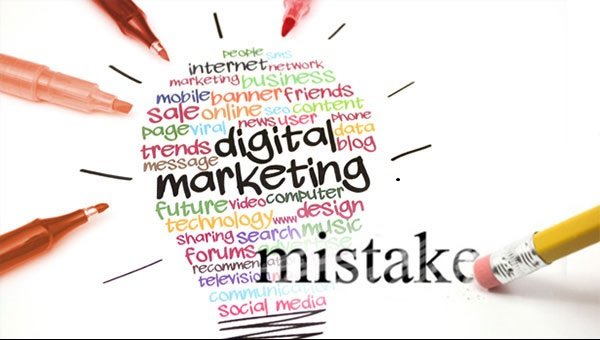 Digital Marketing mistakes you must avoid
It is safe to say that businesses with minimal digital knowledge which don't provide customers a straightforward way to buy their products online are in absolute danger. With time, companies of all niches have realized the worth of online presence and its benefits.
Before becoming comfortable with digital marketing, there are a few mistakes that almost every company makes.
Below are the mistakes you must avoid while starting your business:
Targeting Everyone
If everyone is your audience, then no one is your audience. When you target specific customers, you understand their needs and preferences that can help you customize your product and service that perfectly fits their taste.
This assists you in understanding what to focus on, promoting a boost in your sales and automatically bringing profit to your company.
Overlooking Email Marketing
Email Marketing brings you closer to your customers. They receive the latest updates of your product and all the new information through mails. From offering exclusive discounts, promoting brands to talking about an upcoming event, one can connect with its customers instantly. Avoiding to start an email marketing campaign would be risky and a huge mistake.
Ignoring your Abandoning Customers
Abandoning customers are the ones who have already engaged with your brand and are likely to make a purchase before quitting your site. This is again a benefit to your company as they already know about your company and your products as well.
You make a mistake by ignoring such customers, instead, all you can do is bring them back to your site, convince them to purchase your service and convert them into loyal customers.
Not Measuring ROI
Measuring your Return On Investment means identifying if your strategies are working for the business or not. You also recognize your future goals and campaigns you can come up with. By calculating ROI, you will be aware of your total earnings on the investment.
Don't make the mistake of expecting an exposure without investing.
Failing to create an emotional connection
Mostly, a firm tries to connect with a customer emotionally by narrating their story or history behind the establishment of the company. Not only that, a company also shares personal stories which strike the right chord with the customer. This step is helpful as it retains and convinces the customer to stay and make a purchase more often.
Not replying to Customer's feedback
Customer feedback shows that they are very much interested in buying more of your products and services in the near future. Overlooking their feedback would give a wrong impression to the customer that the company is not much concerned after providing the service.
Positive or negative feedback, reply to their messages to be connected with them.
Website design errors
Ensure your company has an attractive and error-free website. Customers pay a visit to your website in the hope of receiving information about your company and the services you provide. As interesting as your product is, make your website appealing to the audience too. If your website is error free, it is much easier for the customers to understand your goals and missions.
Add informative blogs to your website for the customers to read and get to know about you.